Apologia Educational Ministries has done it again. They have produced eye-catching, informative products that are Biblically based. I count it a privilege to have received three of the books from their iWitness series for a review. For this review I received the following three paperback books: (each valued at $14)
About the Author
These three books were written and designed by Doug Powell. Mr. Powell earned a BFA in Graphic Design from OA and a MA in Christian Apologetics from Biola University. He is not only a best-selling author, but also an award-winning graphic designer (which is evident in these books!!), and a musician. He had a dream to share apologetics in a fun and interactive way so after designing the books, he then taught himself how to create apps to share these Biblical resources.
About the Books
The first thing you will notice about these books are they are perfect to fit in your purse. That makes me happy since I always grab a book to read on the go. But then….open one up. Wow! The graphics are stimulating. And as a font addict, I loved looking through the pages. The books are designed almost like a scrapbook layout. The text is in various handwriting styled fonts and appears to be written on scraps of paper. Then there are photos of archaeological finds and they are tagged with the name of the artifact, date, location it was found, when it was discovered and which museum has rights to it. I love being able to see all of the items which otherwise I would never experience. Unless of course, I could travel worldwide to visit all of the museums!


iWitness is a series of books and each book focuses on a specific area of Biblical history. (There are more books in the series other than the three that I will be sharing.) This series is suggested for ages eleven and up, but I would suggest that they be used as a family study for any students prior to high school as some of the information can be quite challenging. These books are full of historical information and I want to share some of what I found to be most interesting in each book.
iWitness Biblical Archaeology: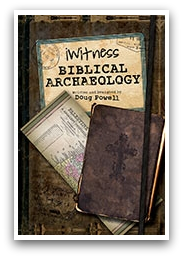 The Bible is more than just a storybook. It is an actual record of history, from a Biblical aspect. Archaeological finds support this. As discoveries are made, we can learn more about ancient times, cultures and people. Rather than contradicting what the Bible states, the finds are supporting what the scriptures say. Did you know that the oldest quotation of scripture (other than the Hebrew Bible) was actually etched on a bracelet? It was discovered on the arm of a skeleton just outside of Jerusalem and is dated during the 7th century. It was of Numbers 6:24-26.
The Dead Sea Scrolls is considered the one of the most important archeological finds ever. It is almost exact to the scriptures that we have been using prior to finding them. The only differences were that of spelling and simple errors. This shows how careful the Jews were to accurately record and pass down the information.
Old Testament iWitness: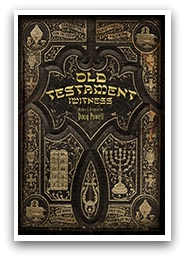 This book shares the journey of how the Old Testament came to us, starting with the inspired word of God and how the Hebrew Bible was regarded and preserved. The Jews were very particular about copying the scriptures. If an error was made, the entire copy would be discarded and the process would start all over again. Jews also preferred the newer copies because they were less likely to be flawed or damaged. When scripts were replaced, they would be placed in a "genizah" and then would be buried during a special ceremony. There was strict criteria for the scriptures when they were being written – everything from how many characters were to be on each line, the spacing, every detail had to be exact. The particulars is not limited to just the script but also about how the writers had to bathe prior to the task and even what to wear.
New Testament iWitness: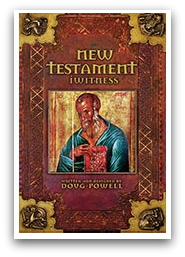 This book covers the history of the books of the New Testament, all of the books that were written, who wrote them, and which ones were chosen to be included in the New Testament. There are more copies of the New Testament than any other ancient book. Churches would make copies of the scriptures to share with other churches. Many people were involved in the process which lead to a human error. The errors were either that of spelling, homonyms or orthographic. However, there are ways to discover the most original text. Because there are so many copies of the books, comparisons can be made and original scripture can be determined. In conclusion, there are only about 400 words that have not been determined as certain and none of those concern doctrine. As a result, that means 99.5% of the original text is accurate.

Stay connected with Apologia:
Facebook – https://www.facebook.com/apologiaworld
Twitter – https://twitter.com/apologiaworld
Google+ – https://plus.google.com/105053356034237782125/posts
Pinterest – http://www.pinterest.com/apologia/