When I was first given the opportunity to review Flourish: Balance for Homeschool Moms, I looked at the sample on the website of Apologia Educational Ministries. The sample begins with Chapter One which contains a list of questions (challenges) and if you answer "yes" to any, then this book is for you. Well…(ahem) I answered "yes" to every single one so I was thrilled when I received this paperback book!!
Mary Jo Tate knows her stuff. I thought I had a lot of life and responsibilities to balance, but she has even more, and she handles it well. Often times I feel like I am just trying to survive. (Definitely wasn't flourishing.) Mary Jo (I feel like we are kindred spirits, hence the first name basis) is a single mom of four boys by no choice of her own and to fulfill her calling to stay at home and homeschool her boys, she found opportunities to work at home. I think that is admirable.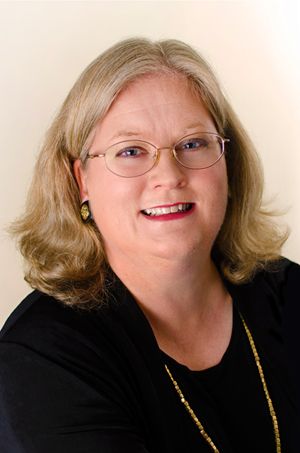 First, I have to say I love books. I read everything cover to cover. And if it's non-fiction, I usually have a highlighter and/or pen. Reading for me has to be interactive! What I noticed immediately was all of the "praise reports" on the first few pages. Yes, I read every single one of them. Obviously, trying to find balance is something that many homeschool moms struggle with and it was actually encouraging to me to see some of the familiar names that recommended this book – moms that I thought definitely already had it all together.
I'm very hesitant on sharing too much of this book with you. Personally, I have an abundance of books that supposed to help me organize my time, be a better parent, homeschool more effectively, blah, blah, blah. If I were reading this review I might think that I already own enough books that cover these topics and would pass over this gem. Let me assure you – this is the only book I have found that covers all of these topics:
Challenging me to dream bigger
Managing your time
Gives you effective tools to stay on task
Setting realistic goals
Step-by-step planning
How to limit all of those interruptions
Adjusting your attitude (gulp)
How to avoid a burnout
Training your children
Making family memories
Running your household
All about homeschooling
Making single parenthood work (I am not a single parent but my husband works away 90% of the time so sometimes I feel like it; this offered tips I could use and also ways to help true single parents.)
All about running a home business
Flourishing while finding balance doing it all and how to assess your life and make necessary adjustments
Yes, all of that is covered in one book. I probably have a shelf full of books to cover all of those topics and I still can't flourish! But Mary Jo has given me hope and I think it is definitely within my grasp now. Every mom can benefit from this book, especially if you homeschool. And/or a WAHM. And/or a single parent. Regardless, there is truly something for everyone here.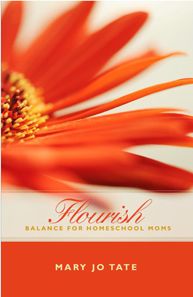 I devoured this book. I'm reading it through for the second time now. The first time through, I started doing the exercises at the end of each chapter. (There are forms to fill out that you can copy from the back of the book, or download from the link given.) When I got to the chapter about managing your time, it asks you to maintain a time log for a week. I know this will be a real eye opener on where I waste time but I skipped doing that for just now. It is supposed to be done on a "typical" week and let's face it – this past month with moving, going out of town, last minute trip and camps, etc, etc…..this is my summer month that thankfully only happens once a year! I actually have blocked out a week in August that says "Have a typical week and make a time log." Yeah, I had to schedule it.
I really don't want to give any spoilers but I will share some of the big "a-ha" moments that I had and things I liked best about this book:
Mary Jo Tate is real. Her life is not perfect. She's not perfect. Her kids get sick and leave socks on the floor. For me, this is a biggie. Just like I don't want a mom of an infant telling me how to raise teens, I don't want a mom that doesn't deal with the same things I deal with telling me how to run my life.
She offers real doable advice. And gives you step-by-step directions to help you.
I love the recommendations she gives. I was already using some of them and I've read a few of the books she recommends too, now I want to read the others.
She gave me permission to outsource. I am one of those control freaks that would rather do everything myself to save money and to make sure it's done right. I felt a burden lift when I realized that outsourcing can be a good thing and when she spoke in terms of money (such as you can make more money doing your work for two hours than how much you would save searching yard sales for a bargain), she was speaking my language.
REAL advice on working from home. Business ideas. How to do it. Marketing. My head is spinning!
And this is probably just my thing, but I prefer books that have all of these wonderful little snippets of wisdom in the margins!!
In conclusion, this book is worth every penny (retail price $15)!!! I even had my friend read it aloud to me on our way home from a road trip. That was a great experience since she was my first homeschool mentor and she loved it. Don't just take my word for it, several of my fellow TOS Review Crew members enjoyed this book too and you can read their reviews. Warning: you might find some spoilers 🙂
Stay connected:
Facebook: https://www.facebook.com/FlourishAtHome
Twitter: https://twitter.com/maryjotate