I love to incorporate the Bible in as many of our studies as I can but sometimes it's nice to do a study just of the sake of studying the Bible. Especially now that the Christmas season is fast approaching! We always read the story of Jesus' birth but often I wonder how much younger kids really retain when they hear it once a year? Kids need more than to just hear a story. The need to interact with it to really retain the information. Grapevine Studies provides just that! They offer a full line of Bible studies in a series called Stick Figure Through the Bible. For this review, we received a digital download of Birth of Jesus: Multi-Level student and teacher guides.
Grapevine Studies offer five levels of books, geared to Pre-K and up.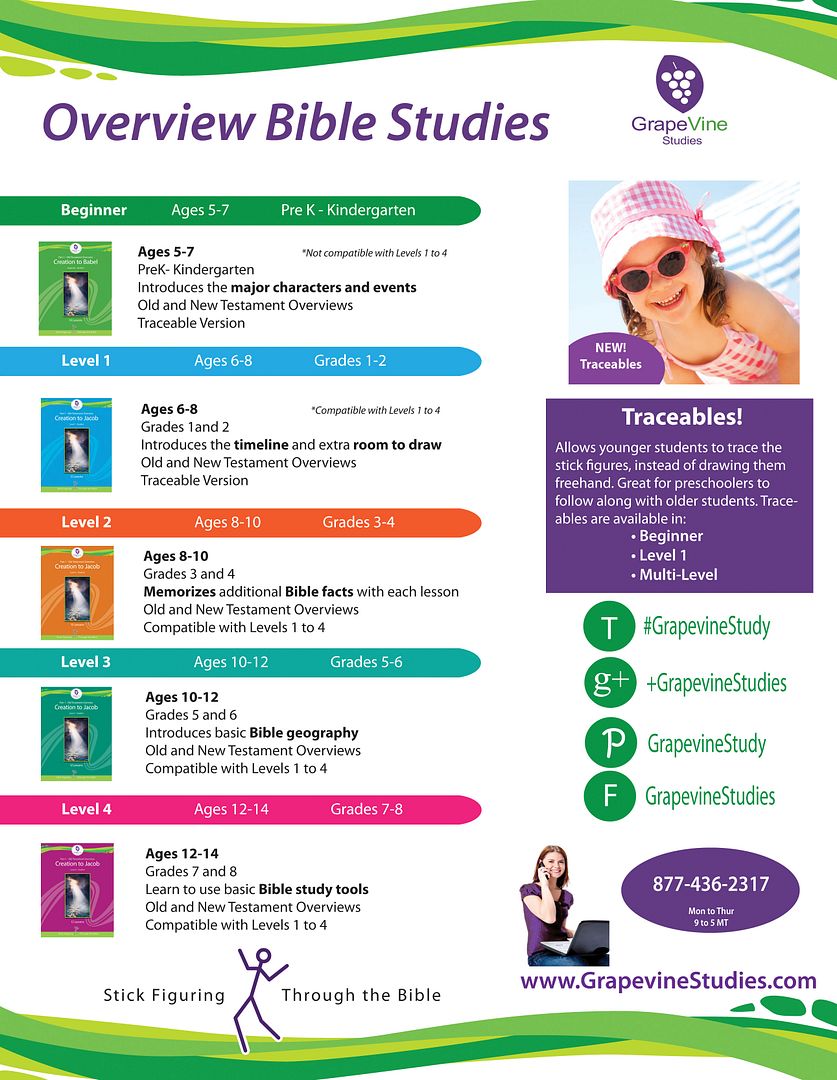 You will need to decide which level to choose and Grapevine Studies can help determine that too.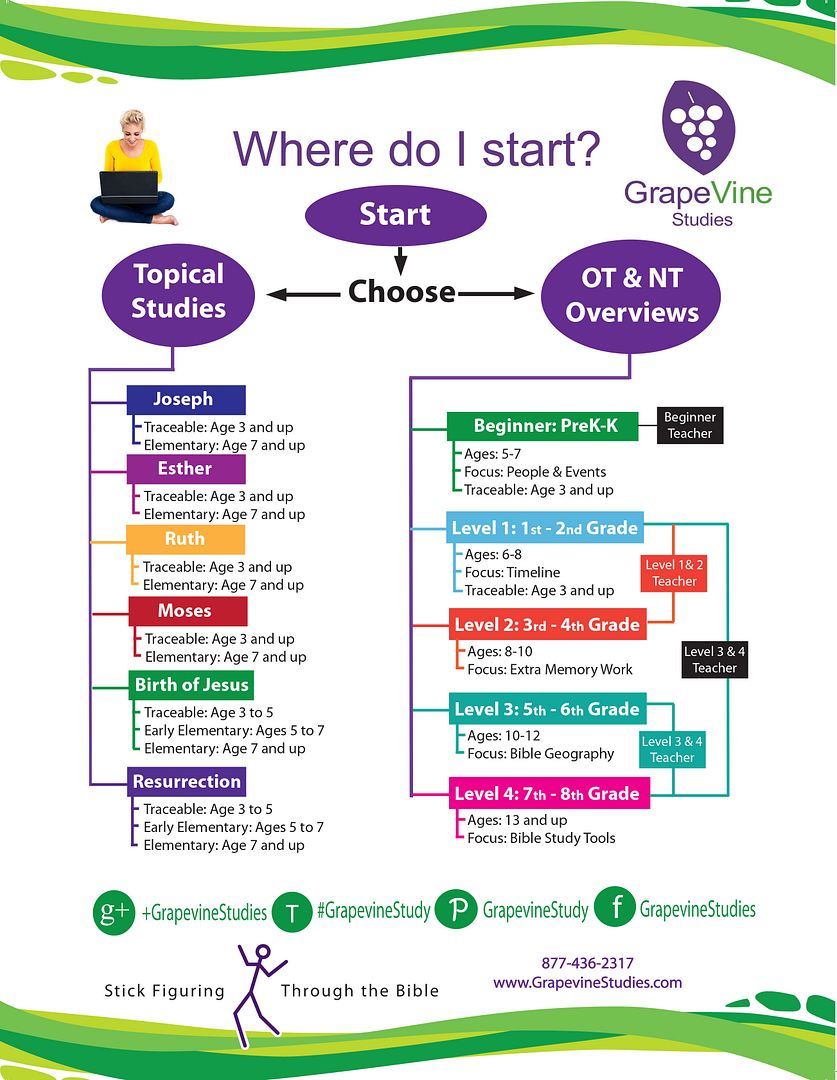 About the Product
I choose the Birth of Jesus: Multi-Level. I opted for this study because up the soon arriving Christmas season and I planned on using the study with both my sixteen and eight year old. Actually, everyone in my family likes to doodle (some more talented than others) but I knew the study would get everyone interested.
To get started, gather your supplies. Thankfully, nothing is required that we didn't already have on hand. Don't you love when that happens? I printed off the pages that the boys would need, gathered their Bibles, and colored pencils. Honestly, some days they used crayons and other days, Sharpies. As the teacher, I used the teacher guide (which I downloaded on my Kindle), my Bible, a wipe-off board and markers. I also kept a Bible atlas and Bible dictionary nearby.
As I would read the lesson for the day, I would draw the lesson on the wipe-off board. Both boys would draw their own version on their paper. They are both at the age that they really did not need to copy what I was drawing but I would keep it simple in hopes that they would follow my lead. Remember how I said we are a family of doodlers? Well, my hardest task was trying to get them to keep it simple and now draw out the entire scene. After a few lessons, they got it. Although, if they finished their stick figure early, we always kept a stack of scratch paper nearby so they could continue drawing anything that they wanted to as long as it related to the lesson I was reading. Stick figures are used because it's a way that all children can draw what they are learning and not get caught up in the struggle of actually drawing a person. Besides the stick figure, simple drawings such as symbols, can also be used to help show the story. (You can see the question mark as Joseph ponders his decision in our drawing below.)
As the lesson is being read, figures are drawn in the corresponding boxes. There's a caption in each box so you know the highlight of the story that you are to draw.
I particularly liked that there was a timeline included. After the first lesson was completed, all subsequent lessons begin with adding the characters from previous lesson on to the timeline. This provides a way to connect to the new lesson and as a built-in little mini review.
(Yes, I do realize that I need to enunciate more clearly "Gabriel" and "Gabrielle". We know a Gabrielle and I guess so often kids just naturally assume angels are female….??? With wings and long hair???) See the little pregnant bellies on the stick figures?
The study ends with a final review which can easily be done orally. You can also have the students complete another timeline to see how much information stuck.
Final Thoughts
We really enjoyed this study. I think it is a great way to get kids involved in studying the Bible, especially if you have kinesthetic learners that needs to be doing something with their hands so they can concentrate.
Stay Connected
Facebook: https://www.facebook.com/GrapevineStudies
Twitter: https://twitter.com/grapevinestudy
Pinterest: https://www.pinterest.com/grapevinestudy/
Google+: https://plus.google.com/u/0/+Grapevinestudies/posts
Periscope: @Grapevine Studies