My kids love science. It's probably their favorite subject. Which is strange because it was never mine. But then I only had a boring textbook. I think that's why I always try to find fun ways to supplement our school. When Visual Learning Systems came up for a review, all of us were excited.
For this review, we were given a one year subscription to Digital Science Online: Elementary Edition (Grades K-5) and Digital Science Online: Secondary Edition (Grades 6-12).
This program is designed to be used as a supplement to your science program. Because of this, there is not a given order to cover the topics. This was great for us because we started off using the Health topics since we are studying Human Body now.
Here's how we used it:
First, I signed in to set up my student. I will admit that I had my own login information written down and later discovered that my son had been signing into that account when he was using the program and not his own account. I really did not see any differences except the option to mange my account which is only used to set up a student's login information.
Once you are signed in, you can find topics two ways: by grade level – Primary, Elementary and Secondary; or by Subjects. The subjects vary slightly according to which grade level is selected. There is also a search feature; however, it will only search for the grade level that is highlighted. If you are just browsing, be sure to check on each level. I found human body related videos under Life, Health and Biology.
To begin, I wanted to use the program to supplement our current studies. Under the "elementary" level, I clicked "life" and the video that most closely matched what we've learned was titled "Blood and Circulation". (We've watched many videos and the elementary level all seem to be about 15 minutes in length while the secondary level is only slightly longer, about 20 minutes.)
There is a tab "Teacher's Guide" that contains worksheets that you can print out. The worksheets vary depending on the subject studied but most have a pre-test, post-test, question/answer type worksheet and some contain activities.
I found that we could easily work on any level. The secondary level contained more material but even my 8 year old participated in watching the videos and doing the activities. We used videos for all levels and only found that the worksheets is what really separates the grade levels.
For the Healthy Circulatory and Respiratory Systems (Secondary Level), we watched the video and then I printed out the corresponding student activities that we wanted to use.
For this activity, you learn how to take your pulse and respiratory rates.
After you learn how to locate and count your pulse, you do various activities (resting, standing, walking, running), and count your rates after each.
And then the rates are recorded on the worksheet I had printed.
As part of the video, there is a short quiz at the end to test your knowledge. If you opt to print worksheets, the same quiz was under Video Review. However, I never found the answer key but the questions were not difficult.
We primarily used this online program to supplement our current studies. However, my youngest found many of the videos fascinating and would watch them. He wanted to do the lesson on measuring and went through the whole house with a measuring tape!
To use this program, you need access to the internet. We were able to view the videos both on my computer and on my Kindle with no problems. Of course, a printer would be needed if you chose to print out any worksheets.
Visual Learning Systems offers a variety of products to help supplement your science education. There is also special pricing for homeschool families!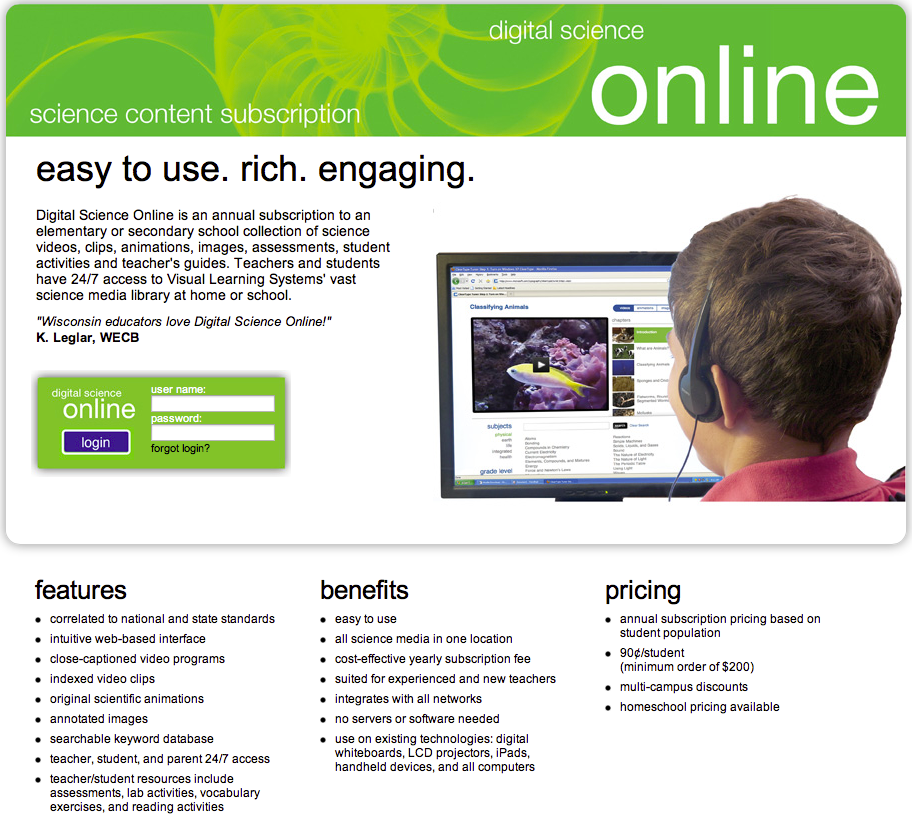 If you would like more information, check out these
Tutorials and Demo Samples
. You can also request a
free one month trial.
Stay connected:
Facebook –http://facebook.com/visuallearningsystems
Twitter – https://twitter.com/visualearning