It amazes me how most kids struggle in math. Math has always been my strongest suite and I can look at a number and immediately all of the factors of that number comes rushing in my brain. I think the difference just might be that I was drilled with flash cards, in and out of the classroom. I think I even remember dreaming about math facts.

When I received the opportunity from
UberSmart Software
to review their
UberSmart Math Facts
, I recognized that they are filling the void that is lost in so many math curriculums now – flash card drills. It is a tried and true method, no bells and whistles, just solid results.
About the Program
Developed by a homeschool dad/computer programmer, UberSmart Math Facts is a software program that you can actually download and run off your computer. I like this because my son will not be tempted to open another tab on the internet and get distracted!! The software requires Windows 7, 8, XP or Vista. You are also allowed to run it on all of your computers; however, since it is not browser-based, you will not be able to see your scores from one computer to the next. It is designed for K-6 but can be great reinforcement for any age. Once you download the program you have several options and you can customize it for your child's weaknesses or what they are learning in their curriculum. The software covers addition and subtraction up to 9′s and multiplication and division up to 20′s. Why? Well, personally, I do up to 12′s because we've always done a lot of baking and a dozen = 12. That's what works for my family. UberSmart states that in the computer world "hexadecimals" are used (Greek to me) and so memorizing the 15′s is helpful. Do what works for you. Once you have downloaded the program and open it up this is what you will see:
The first thing to do is click on MAINTAIN and enter your student's information. I have all three boys listed. I even added myself too…you know, to try to keep the old mind sharp. This portion is password protected so that the kiddos can't go in and mess it up. Here is where you can also choose to make the software appear in full screen and assign how far you want them to learn multiplication and division facts. You can even adjust the time limit for tests and how many is allowed to be missed. The next thing I did was have Jeremiah do the assessment test. I just clicked on TEST and clicked on "Assessment Test" under "Beginner". (The only other option is "Mastery Test" under "Intermediate", that comes later.) Jeremiah went through the assessment fairly quickly. There is a progress bar at the bottom that to him, seemed to advance rather slowly, but there are breaks between the sections. Once he reached the point that he kept missing, (we haven't done multiplication or division) the test ended. To view the results, I clicked on REPORT. There are several options here – Dots Progress, Mastery Progress, Mastery Chart, Mastery Date, Grade Book, Assessment and Competition. I received a detailed report of his Assessment results.
The report marks everything down. Not only did I see what exactly he does know but it shows how quickly he responded. This helped to know what facts have been mastered and what he was probably still counting off (either on his fingers or in his head.) I am having Jeremiah do all facts for addition and subtraction. Here are the areas he was tested in:
Counting
Sequencing
Relationship
Odds and Even
Keyboard Entry
Math Facts (this is further broken down into Addition, Subtraction, Multiplication and Division. When Jeremiah started struggling with some of the higher numbers of subtraction, the assessment ended because those facts must first be mastered.)
The results told me exactly how many of the given problems were missed, and how much time he spent on it. Even though Jeremiah can master worksheets, the assessment showed that he did not readily recall facts for 7′s, 8′s and 9′s. Those were the times his response time drastically increased. For each tab you click on, you choose the student and what facts are to be learned, practiced, tested, or competed. Then I had Jeremiah click on LEARN. Here, you have the option of "Dot Cards" under "Beginner" or "Flash Cards" under "Intermediate". The dot cards resemble dominoes to me. And the flash cards look like, you got it, flash cards. In the Learning Mode, the student just says the answer to himself and click on "Show" and see if he got it right. There's no typing in the learning mode.
(Excuse my wording of "choose"…it's mentally choose, not actually clicking on it. Once you click "Show" the correct card stays on the screen and all the other ones disappear.) Next, it's time for PRACTICE. Under "Beginner", you can choose "Dot Cards" or "Keyboard Entry". For "Dot Cards", this time, you actually do click on the correct card. If you get it right, you will see "Correct" and the other cards disappear; however, if you are incorrect the buzzer will sound and the card you selected and the correct card will remain on the screen. The "Keyboard Entry" is solely to help the student learn 10-key. However, it does not teach finger placement but it allows the student to practice quickly typing in the numbers that appear on the screen. This is extremely helpful since the tests determine how well you have mastered the facts by the speed in which you answer the problems.
"Flash Cards" is your option under "Intermediate" for the Practice Mode. Now you type in the correct answer on the flash cards.
The next tab is TEST. You have the "Assessment Test" under "Beginner" which we did first. The other option is "Mastery Test" under "Intermediate". The Mastery Test is flash cards and it will show more than one problem at a time just as if they were taking a quiz on paper. The student is even allowed to skip a problem and it will be recycled back. The test can not be completed with problems unanswered. At the end of the mastery test, you receive a loud round of applause. What a feeling of accomplishment!!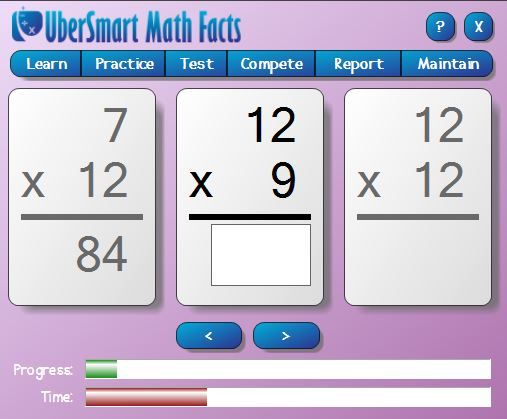 Next comes COMPETE. My boys haven't really cared to enter COMPETE yet, but I did. In this option, you can choose age range – Elementary, Middle School, High School, or Adult. I did pretty well but can I just tell you, I do not operate under pressure nearly as well as I used to!! And it's much harder to do this quickly when you mix up all of the operations. (And yes, I did select "Adult".)
I mentioned the REPORTS before when I checked out Jeremiah's assessment scores. I love that the Report options will chart your child's mastery of the facts and it will also break it down by each number set if you select it that way.
How We Used It
I've already pretty much explained in detail how we used the software. Since it does not actually teach the concepts of math (although that might be coming in the future), it is essential for drills and developing "automaticity". It is recommended to use the software for at least ten minutes daily. I have a kitchen timer beside our computer and Jeremiah will use this at least 10 minutes daily.
I've already seen great improvement since we started. He has also been told that when all of the facts for all of the operations have been mastered, he will be able to print out a Certificate of Mastery. Unfortunately, this has inspired him to drill multiplication and division before learning them but I am thrilled with his enthusiasm. This software will definitely be incorporated in all of my boys' school schedule for this year.
For $24.95 and a one-time investment, I believe this is a great product to ensure your child's mastery of the basics. With a solid foundation, it will make high levels of math much easier for them. UberSmart Math Facts offers a 100% Satisfaction Guarantee and even offers a 30 day trial version. You can't go wrong. And if you feel you really need it, there's even some printable worksheets for practice. Although, the student might get disappointed that there will be no applause or smiley face added to the progress sheet.
Still unsure? Check out all of the reviews from my fellow Crew members.